"Its plunging neckline and sleek silhouette certainly turned some heads. In fact, Mani literally sewed me into the gown to give it that exquisite fit," Zeenat shared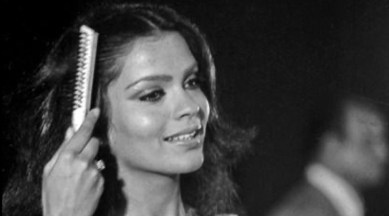 Zeenat looked stunning in this silver gown (Source: Zeenat Aman/Instagram)
Veteran actor Zeenat Aman, who joined the photo and video-sharing platform Instagram last month, regularly shares intriguing and amusing anecdotes from her personal and professional life. No wonder, she has garnered several followers in just a span of a few weeks who can't get enough of the actor's everlasting elegance and persona. In a similar vein, she took to social media recently to share "some Saturday glam to inspire your evening plans".
You have exhausted your
monthly limit of free stories.
To continue reading,
simply register or sign in
Continue reading with an Indian Express Premium membership starting Rs 133 per month.
This premium article is free for now.
Register to continue reading this story.
This content is exclusive for our subscribers.
Subscribe to get unlimited access to The Indian Express exclusive and premium stories.
This content is exclusive for our subscribers.
Subscribe now to get unlimited access to The Indian Express exclusive and premium stories.
Posting a picture of herself wearing a silver sequin gown with a plunging neckline, criss-cross details on the waist, and strappy sleeves, Zeenat shared the story behind the dress and when this popular photograph was taken. "I've seen this image of myself floating around on the Internet, and thought it would be good to add some context to it," she wrote.
Revealing that it was taken during her film Shalimar's mahurat ceremony, she continued, "The year was 1977, and the cast and crew of Krishna Shah's Shalimar had gathered at the Turf Club in Mumbai for the film's 'mahurat'. It was a packed, high-profile event and everyone was dressed to the nines."
Zeenat shared that this "glorious" silver gown was created by renowned costume designer Mani Rabadi based on a design by the actor. "Its plunging neckline and sleek silhouette certainly turned some heads. In fact, Mani literally sewed me into the gown to give it that exquisite fit," she added.
She continued, "We had several international actors in attendance that day, including Gina Lollobrigida. She later backed out of the production, amongst swirling rumours that we had locked horns." Zeenat further shared a conversation she had with British actor Rex Harrison. "British actor Rex Harrison wasn't at the event, but he was in the film. One day on set, he told me – 'A beautiful girl like you should get married immediately'. I had a good laugh over that. And for the record, I think that's a terrible reason to get married," she added.
The actor concluded by saying that while the film didn't quite dazzle the audience, it was a thrilling adventure. "We shot the film in both English and Hindi, shooting each scene twice over," she wrote.
📣 For more lifestyle news, follow us on Instagram | Twitter | Facebook and don't miss out on the latest updates!
© IE Online Media Services Pvt Ltd