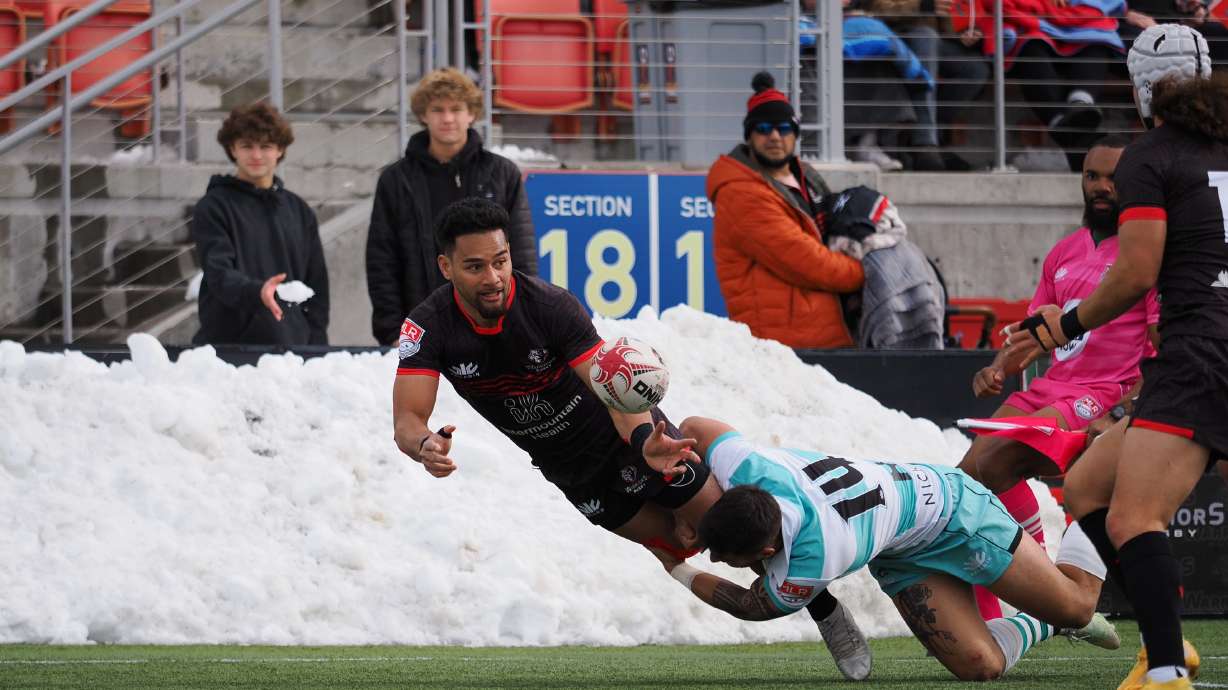 The Utah Warriors held off the Dallas Jackals, 33-25, in the Warriors' home opener, Saturday, Feb. 25, 2023 at Zions Bank Stadium in Herriman. (Davey Wilson, Utah Warriors)
Estimated read time: 2-3
minutes
SALT LAKE CITY — Facing a one-win team from the opposite conference might have given the Utah Warriors good vibes when the state's pro rugby side traveled to New Orleans to face NOLA Gold.
But the Gold's one win was a big one — a 31-5 rout of the New York Ironworkers — and NOLA kept the good gibes golden on their home pitch Saturday afternoon.
The Gold shut out the visiting Warriors at the Gold Mine in the first half, and cruised to a 37-14 victory for their second consecutive win on Saturday. Utah dropped to 2-2 and 9 points on the season to stay in the bottom half of the Western Conference.
"I didn't think we came at them aggressively enough and allowed them to play," Warriors first-year head coach Greg Cooper said. "A lot of things to look at; it's one of those games where I will need to go back for a close analysis, but we almost allowed them to play too much. … It's a totally different team from the last game we played against Chicago, but we allowed them to come at us and play their game."
In Utah's first interconference clash of the 2023 season against the penultimate team in the East, the Warriors fell behind 13-0 on a penalty kick in the 25th minute.
Paul Lasike was held up trying to push Utah's first try over the line in the 34th minute, and NOLA (2-3) immediately responded with a 37th minute try to lead to the 25-0 halftime rout.
Lance Williams scored a try as the Warriors opened the second half at a frenzied pace. But Utah's veteran 250-pound hooker Tuvere Vugakoto was sent off in the 53rd minute with a red card, and the visitors never threatened again.
Mika Kruse barreled in off the wing for a try under the post in the 74th minute to pull the Warriors within 30-14, but the Gold punched one in two minutes from time to finish off the win.
"You either drop your head and not show heart, or you show heart," Cooper said. "I thought we showed some good heart in the second half. But we've got to look at the first half and figure out why we allowed them to dictate the game."
Utah returns home to Zions Bank Stadium on March 25 to face the Toronto Arrows. Kickoff is scheduled for 2:30 p.m. MDT on KMYU.
×
Most recent Utah Warriors stories
More stories you may be interested in